24480 Sperry Circle
Westlake, OH 44145
Phone: (440) 871-1120
Fax: (440) 871-1121
View On Map

About Brazing Service, Inc.
Since 1951, Brazing Service, Inc. has been providing brazing services to customers in the automotive, aviation, medical, pneumatic, hydraulic and industrial & electrical component industries. BSI is a leader in silver brazing, copper brazing, aluminum brazing and brazing of carbide. Additionally, BSI provides spot welding of aluminum, stainless steel and steel, continuous rotary torch brazing and manual torch brazing. BSI is also equipped to handle various automated and manual assembly processes.
Brazing Service, Inc. is conveniently located in Westlake, Ohio, a western suburb of Cleveland, on Sperry Circle between the Clague Road and Columbia Road exits off of Interstate 90/Ohio State Route 2.
Equipment:
Aluminum Brazing Furnace
Endothermic Furnace (Hydrogen Furnace)
Exothermic Furnace (large capacity)
75 KVA Spot Welder
5 KVA Spot Welder
Capacitance Discharge Welder
Rotary Torch Brazing Table
Rotary Press
History: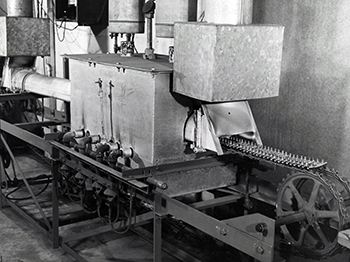 In the mid-twentieth century, Robert F. Deucher and Theodore Deucher were both attending college to become engineers. They were also working to help pay for their studies. One of Robert's work projects was torch brazing large assemblies. One of the challenges of this process, Robert noticed, was that the torch caused heat discoloration and the flux stained the components being brazed. Robert and Theodore put their heads together to design and build a gas-fired, chain driven exothermic furnace in their father's garage. To test out their invention on a real world application, one Friday night Robert took home some parts which required brazing and over the weekend they ran them through their homebuilt furnace with great success! The following Monday, Robert took the very clean looking and well brazed parts to show his boss who turned out to be very impressed with the results. Robert and Theodore's initial thoughts were to sell the furnace to Robert's employer. To their surprise, Robert's boss was not interested in buying the furnace. However, his employer did ask if he could take the rest of the fittings home to his furnace and braze them. Over time, the boys picked up more furnace brazing jobs based on their early successes.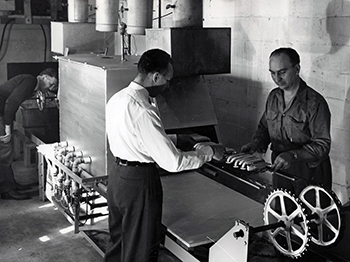 In the 1940's, the flux used in the brazing process was alcohol-based which meant it was somewhat volatile. When Robert and Theodore's homebuilt brazing furnace had a flare up and scorched the ceiling of their father's garage, their father was not at all pleased. In addition to barely having enough room to park his car inside the garage, Mr. Deucher also feared the garage might burn down and ruin the car and the brazing furnace. So it was decision time. By now, both Robert and Theodore had graduated from college and could easily find work at larger, established companies that paid great benefits, or they could continue to grow their furnace brazing business. After serious deliberations, they decided to continue on their entrepreneurial path and rented a Quonset hut in Cleveland for the base of their brazing operations. Over time, Robert F. and Theodore built up their customer base and built larger furnaces as well as purchased additional furnaces and other equipment to increase their capacity. Needing to expand their operations once again in order to handle their ever-growing work load, in the 1960's they purchased property in Westlake, Ohio and built the building that today still serves as the headquarters for Brazing Service, Inc. Once the building was completed, they cleverly decided to move employees and jobs in phases from their existing building to their new production facility so as to not disrupt their production schedule and promised delivery dates.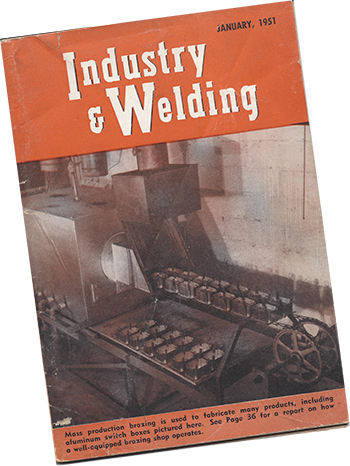 Robert F.'s son Robert C. Deucher worked at Brazing Service, Inc. while he was studying mechanical and electrical engineering in college. When his father passed, Robert C. was asked to take the reins of the of the family business, a task he proudly accepted. Under Robert C.'s guidance additional equipment and capabilities were added including an endothermic (hydrogen) furnace, rotary torch table, spot welders and automatic assembly machines. Today, Brazing Service, Inc. is one of the few companies that specializes in aluminum brazing and carbide brazing.
The third generation of the Deucher family, Matthew Deucher, joined Brazing Service, Inc. in 1989 just as his father and grandfather did before him, working part-time during college. Standing on the shoulders of his two generations of brazing experts before him, Matt started full time at Brazing Service, Inc. after college and has been with the company for over 25 years. Matt currently operates BSI and looks forward to continuing the family tradition of providing the highest level of premium quality brazing services available for decades to come.
Matt Deucher has received certification in the Fundamentals of Brazing from Lucas-Milhaupt and has achieved his ASME Medical Gas Systems Brazing Certification.
24480 Sperry Circle
Westlake, OH 44145
(440) 871-1120
View On Map