24480 Sperry Circle
Westlake, OH 44145
Phone: (440) 871-1120
Fax: (440) 871-1121
View On Map

Aluminum Brazing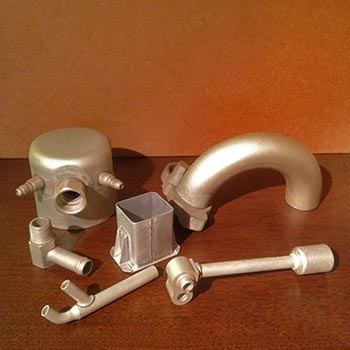 Brazing of aluminum poses special challenges because the brazing filler alloy has a melting temperature which is much closer to the base metals being joined. Brazing Service, Inc. is a highly experienced specialist in aluminum brazing since the 1950's and knows how to execute the aluminum brazing process properly to fit the specific needs of its customers. BSI utilizes a continuous chain drive brazing furnace for its aluminum brazing work which is more cost effective than dip brazing or vacuum brazing. Aluminum brazing is often used for components to be utilized in the aviation, automobile, electrical and medical industries. Please call us at (440) 871-1120 or use our online contact form for more information about our aluminum brazing services.
Brazing Service, Inc., is one of the premier service providers of brazing 1100, 6061 and 3000 series aluminum in the U.S. and can handle large capacities of components to be brazed.
BSI can handle all types of aluminum brazing projects ranging from one-off or prototypes to large production runs.
Brazing Service, Inc. can also accommodate automated and manual assembly needs as required.
Aluminum brazing is often used in manufacturing computer and other electronic enclosures.
Other industries typically served with aluminum brazing include aviation, automotive, electrical and medical.
24480 Sperry Circle
Westlake, OH 44145
(440) 871-1120
View On Map