24480 Sperry Circle
Westlake, OH 44145
Phone: (440) 871-1120
Fax: (440) 871-1121
View On Map

Spot Welding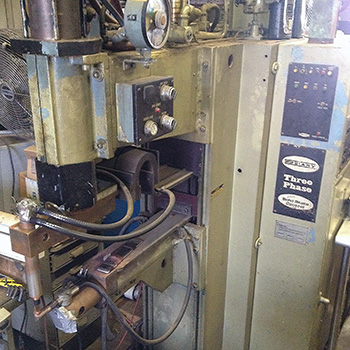 Spot welding employs the use of short pulses of very high voltage electric current concentrated on two pieces of metal which are being held in place under pressure. The resistance to the electrical current at the spot where the high voltage pulse passes through the two pieces of metal causes the metal to melt, forming a spot welded bond. The heat produced by the spot weld is not transferred to other areas of the metal being welded, because the electric current is pulsed very briefly on the spot. Spot welding can be used to join two like metals including aluminum, steel, and stainless steel.
Spot welding and capacitance discharge welding is employed to hold components together prior to brazing in lieu of fixtures. This can reduce the overall cost of the brazing operations. Please call us at (440) 871-1120 or use our online contact form to learn how our spot welding capabilities can meet your needs.
Spot welding can be executed for one-off needs, prototypes, as well as full production projects.
Assembly services can also be provided as part of spot welding projects.
Brazing Service, Inc. offers spot welding via 75 KVA, 5 KVA, and Capacitance Discharge Welder.
24480 Sperry Circle
Westlake, OH 44145
(440) 871-1120
View On Map