24480 Sperry Circle
Westlake, OH 44145
Phone: (440) 871-1120
Fax: (440) 871-1121
View On Map

Silver Brazing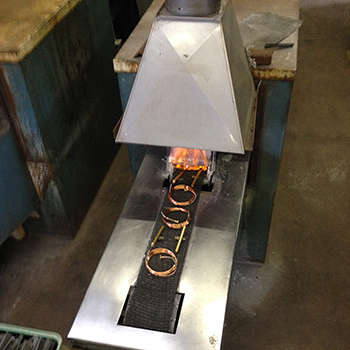 Silver brazing uses silver alloy which is situated between close fitting metal components and heated to its melting temperature. The molten silver alloy interacts with the metals being brazed and when cooled forms an extremely strong bond between the component pieces. Properly brazed joints are generally stronger than the base metals themselves.
Brazing Service, Inc. has been performing high quality silver brazing services for over 60 years. We can handle jobs and components of various sizes including prototypes and large productions runs. To find out more about our silver brazing capabilities, please call us at (440) 871-1120 or use our online contact form.
Silver brazing can be performed via exothermic furnace, endothermic/hydrogen furnace, rotary torch and torch.
Brazing Service, Inc. is able to silver braze large assemblies using our exothermic furnace.
Industry applications include medical, pneumatic, electrical, aviation and automotive.
We utilize proper brazing alloys for food industries when required or requested.
Silver brazing services are available for everything from prototypes to large production runs.
Automated and manual assembly services are available for silver brazing projects.
24480 Sperry Circle
Westlake, OH 44145
(440) 871-1120
View On Map